Domain extensions: .com vs ccTLDs in ecommerce
But does this still hold true in ecommerce? We have analyzed over 400,000 Shopify stores from NerdyData from all around the world to better understand which domain extensions are the most popular in ecommerce.
A look at country code top-level domains (ccTLDs)
Let's have a quick look at ccTLDs to better understand why some stores choose this over a .com TLD. Unlike generic TLDs, a ccTLD is a two-character domain extension that indicates a website's relation to a specific country or geographic territory. Prominent examples are .us for the United States, .ca for Canada, .de for Germany or .uk for the United Kingdom.
Advantages of ccTLDs:
Gives a strong signal to both search engines and customers that a store is local.
Allows for a multi-domain strategy with localized content.
Better domain availability than .com.
Disadvantages of ccTLDs:
Registration might be restricted to local companies and/or individuals.
Potentially higher registration fees than .com.
Potentially more difficult to remember than .com.
Looking at the data
In order to compare the share of ccTLDs  against the .com TLD, we have grouped all individual ccTLDs together. Figure 1 shows the share of .com domains, ccTLDs and the two most popular generic domain extensions: .net and .org.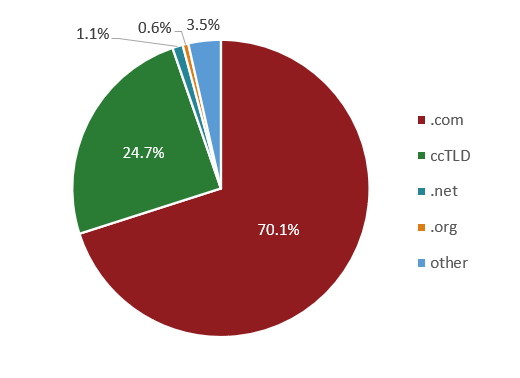 Unsurprisingly, the .com domain extension is by far the most popular in our data sample. Around 70% of all Shopify stores in our sample are using a .com domain name. This number is quite a bit higher than the W3Techs reported number, suggesting that a .com domain is even more important in ecommerce.
Yet almost a quarter of all Shopify stores use a ccTLD and around 5% use a generic domain name.
In order to get a better understanding on the prevalence of ccTLD domains on Shopify, we have analyzed the share of .com ccTLD domains by country.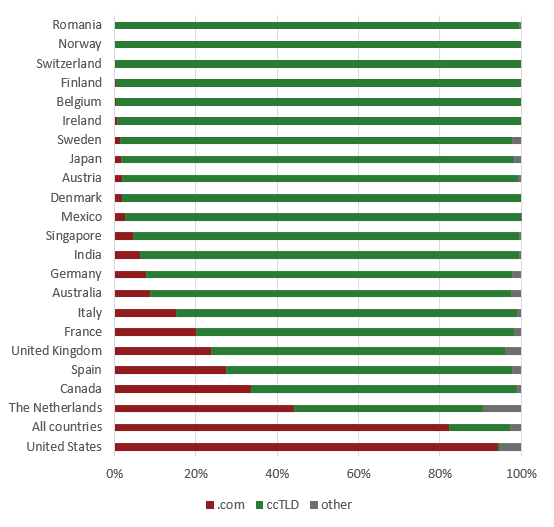 Figure 2 shows us how .com dominates in the US. Almost 95% of all stores located in the US use a .com domain. This is quite a bit higher than the overall Shopify average of 70.1%, and much higher than the global average of 54.1%.
Yet, according to Figure 2, the United States is a clear outlier. In our sample, Shopify stores in countries outside of the United States clearly favor a local ccTLD. Especially in European countries the local country domain extensions dominate in ecommerce.
Which domain extension is best for ecommerce?
Globally .com is still by far the most used domain extension, which makes .com the safest choice for ecommerce stores in many cases. Especially in the US, the .com TLD is king and it is unlikely to change in the near future.
However if the data above is any indication, the ccTLD is much more prevalent in many countries around the world. If you are based anywhere except in the US, use your local ccTLD with confidence. Less than 3% use neither a .com nor a ccTLD. Unless there is a specific reason, it's best to avoid TLDs other than .com or ccTLD.
Whatever you decide, make sure to also register the .com version of your domain. Even if you don't have any immediate plans on using that domain.
Are you still unsure what the best domain extension is for your business? Get in touch with us and let our ecommerce experts help you decide.